Concerned about the red itchy spots appearing on your skin every now and then?
Or is it the whiteheads that have popped up after you started using some new skincare products? Either way, you must not panic, but know that you need to get them out of the way as soon as possible. Acne can indeed worsen your skin condition if you don't act on them immediately.
But the next big question is, what will you opt for? After all, there are thousands of acne treatment products out there, and not all are worth the trust.
That's why we've tried to make things simpler for you by reviewing the best acne treatments and dermatologist approved acne treatments. So, without further ado, let's get straight to the deets!
Best Acne Treatments
The best Ingredients of science and nature working in synergy to transform your skin
Overview
To start with, we've picked this potent acne treatment kit from Exposed Skin Care that's designed to cure the most stubborn acne with perfection. It's also among the most popular acne treatments across the country, as it has helped over 250,000 men and women achieve clearer and smoother skin with ease.
This kit combines the best of science and nature to make your skin healthier from within, and the transformation is evident in the long run.
As per a survey conducted by the brand, this kit has improved skin clarity in 98% of its users, while 96% of them have witnessed improvement in their skin tone. Also, each product in the kit is formulated using non-toxic, gentle, and paraben-free ingredients consisting of natural extracts.
Ingredients
The potent, all-natural ingredient profile of this acne treatment kit includes:
1. Salicylic Acid
Obtained from sugary fruits, salicylic acid is a water-soluble beta hydroxy acid that facilitates the generation of new skin cells by unclogging oily skin pores. It works by disintegrating the bonds between dead skin cells to release them from the pores easily. Also, it breaks down oils like sebum from the pores and reduces overall sebum production.
2. Benzoyl Peroxide
This is undoubtedly one of the most beneficial compounds[1] for improving skin health as it can kill acne bacteria present on the skin surface. This compound may also fight skin inflammation and make acne scars appear milder.
3. Tea Tree Oil
Also referred to as melaleuca oil, it's a powerful antibacterial oil obtained from the Australian tea tree. Thus, the presence of this ingredient in the Exposed Skincare serums adds to the ability of the products to kill bacteria infecting the skin pores.
4. Glycolic Acid
Coming in a water-soluble form like salicylic acid, glycolic acid is sourced from sugarcane and functions as an exfoliant to eradicate dead cells from the skin. As such, the previously dry and patchy skin spotted with severe inflammatory acne gives way to newer and younger-looking skin. And since it's a small compound, it can penetrate the skin deeply and quickly.
5. Azelaic Acid
Another naturally occurring acid included in the formulation is this one. Mostly found in rye, barley, and other such grains, this anti-inflammatory, and antibacterial compound can work wonders in treating acne. It acts on the skin by clearing clogged pores, encouraging the growth of new cells, and soothing inflammation.
How Does It Work
The Exposed Skincare acne treatment system targets the four primary causes of acne, viz. clogged pores, acne bacteria, excess oil content, and redness.
Firstly, it opens up the blocked pores to clear the skin from dead cells, excess oil, and dirt. It then eliminates the acne-causing bacteria to end your acne problem and restore skin health. The remaining two phases comprise the external repair process, which reduces the skin's dryness, redness, and irritation.
---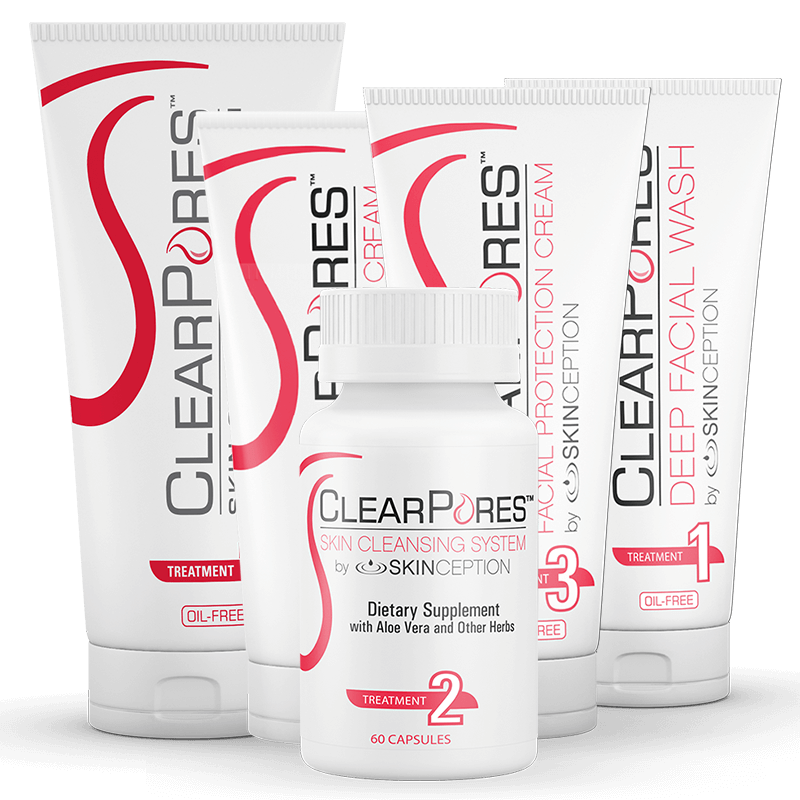 The ClearPores Acne Treatment and Skin Clearing System includes a deep facial wash, protection cream, and skin cleaning herbal supplement. However, you can choose to purchase these products separately or get a customized bundle.
Overview
Next in line is this much-talked-about simplified acne treatment system that acts on the root cause of an acne breakout and facilitates quick skin recovery. This kit includes a bottle of Phyto350 skincare supplements, a ClearPores Facial Protection Cream, and a ClearPores Deep Facial Wash.
Formulated with the assistance of reputed skin care specialists, this system can also help maintain skin health and prevent acne problems in the future. Another big advantage is that it comes with a purely plant-based formulation that's much gentler than most acne medications and creams out there.
Notably, this treatment is suitable for both your body and face and is also backed by a beneficial 67-day refund guarantee. This clearly reflects the brand's confidence in its formula and makes it a more reliable choice for customers who want nothing less than the best results.
Ingredients
Each component of this acne treatment is made using a different ingredient blend, so let's have a brief look at the composition:
1. Phyto350
The primary ingredients of this herbal skincare supplement include:
Burdock Root: It purifies the blood by expelling toxins therein, which ultimately helps clear your system.
Dandelion Root: It helps with gastrointestinal disorders and inflammation.
Aloe vera: It helps with detoxification and digestion
Echinacea: It boosts the immune system in the body so that it can fight the acne bacteria more effectively.
Yellow Dock Root: It acts upon liver toxins and further contributes to the blood purifying process.
2. Facial Protection Cream
Like some products of the Exposed Skincare system, this cream utilizes glycolic acid and salicylic acid to deep clean your oily skin pores. It also includes emulsifiers such as soy lecithin and potassium hydroxide, which help maintain the homogeneity of the formulation.
But a point of caution is that this cream comes with small amounts of Isoparaffin and Dimethicone, which might create a barrier on the skin in the long run. So, you should refrain from using it on a regular basis.
3. Deep Facial Wash
Again, this water-based facial wash primarily uses salicylic acid to facilitate the removal of dead skin cells and exfoliate the skin effectively. Another significant ingredient is SD alcohol which may be useful in dealing with the excess oil in the skin.
Plus, the formulation includes Retinyl Palmitate, a source of Vitamin A that may help treat skin inflammation and heal scars and lesions.
How Does It Work
The ClearPores acne treatment system comes with all that you need to maintain a healthy skincare routine. It works in three simple steps to treat acne effectively and boost overall skin health.
First and foremost, the cleansing action of the Deep Facial Wash removes the bacteria and dirt trapped deep in the pores, making your skin blemish-free. And as for the skincare supplement, it rebalances the irregularities such as poor diet, imbalances, and increased stress levels and helps flush out harmful toxins.
Last but not least, the Facial Protection Cream helps normalize your skin's moisture content. And that's not all; it finishes the cleaning process by eliminating the remaining dead cells, dirt, and oil from the skin.
---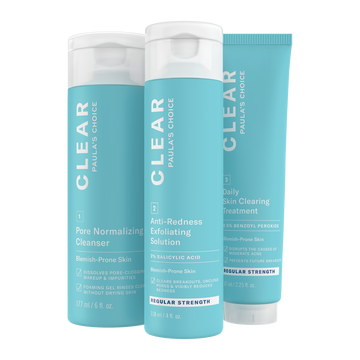 This 3-step routine quickly combats and controls acne and breakouts, unclogs pores and calms redness without causing dryness or flaking.
Overview
When it comes to treating mild to moderate acne problems, the CLEAR Regular Strength Kit from Paula's Choice is an option you can count on.
The brand has been around since 1995 and is a popular name across the country owing to its research-based formula and ethical approach towards manufacturing all products. Over the years, it has incorporated more and more skincare solutions to address the common skin concerns ranging from acne-prone to aging skin.
Plus, rest assured that its lightweight formula will be gentle while it cures and hydrates your skin effectively. Even the ingredients are added in ideal amounts for fetching the desired results. Just make sure you're using the kit regularly as a 3-step routine, and you're sure to get visibly clearer skin within a few weeks.
The contents of the kit include a Regular Strength Anti-Redness Exfoliating Solution, a Pore Normalizing Cleanser, and a Regular Strength Daily Skin Clearing Treatment.
Furthermore, as per an independent clinical trial conducted by the brand, 96% of users admitted to the skin pores appearing smaller after a month of regular use. And when it came to assessing the impact on acne, 88% of users witnessed a marked decrease in the severity.
Ingredients
Notably, the CLEAR Strength Kit is among the handful of acne treatments that utilize both Salicylic Acid and Benzoyl Peroxide in substantial amounts. This feature puts it at an advantage over the majority of acne curing solutions on the market. Also, this is why it's capable of providing fast and effective results for oily, dry, as well as sensitive skin.
The 2.5% Benzoyl Peroxide content of each component is key to eliminating acne-causing bacteria found deep within the skin pores. And as for the salicylic acid, it acts to reduce the redness caused by acne and works as an efficient exfoliant to remove all traces of dead skin cells.
Some other significant ingredients in the products include:
Polysorbate 20: It enhances the texture of the skin, making it look younger and fresher.
Camellia Oleifera Leaf Extract: It soothes the skin and eliminates many toxins therein.
Arginine: This amino acid helps enhance the softness of the skin.
Sodium Lauroyl Sarcosinate: It's the primary cleansing agent used in the Pore Normalizing Cleanser.
How Does It Work
All three skincare products in the kit work to shrink and unclog enlarged skin pores, reduce excess oil, and dislodge blackheads. This way, they can help control any mild to moderate acne breakout and prevent your skin health from deteriorating in the long run.
Another important feature is that you can obtain these benefits without experiencing any dryness or being exposed to any harsh ingredients.
---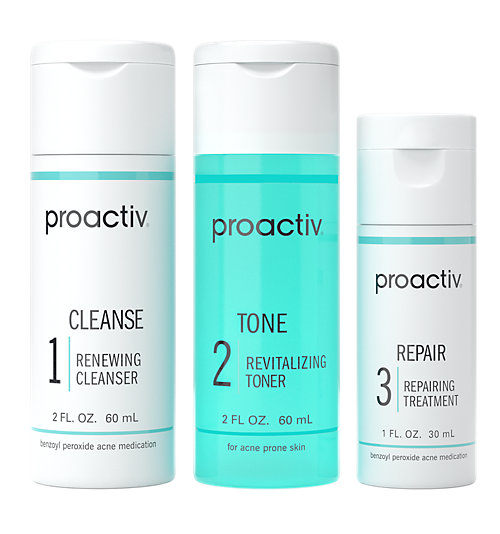 Our 3-step systems are tough on acne, made with clinically-proven ingredients, and dermatologist tested to be gentle.
Overview
Here's another dependable option you can use to tackle mild to moderate acne without worrying about any side effects. The Proactive acne treatment system is available in three easy-to-use variants based on the users' skin types. And the brand claims to have helped more than 20 million people deal with their acne breakouts through these products.
Each of the three-step systems offered comes with a strong yet gentle acne-fighting formulation composed of clinically-proven ingredients. In fact, they are tested by renowned dermatologists to be gentle on the skin and truly effective in reducing acne intensity.
Another advantage is that this acne treatment system is available at affordable rates. So, rest assured that you won't have to break the bank to clear acne even on the most acne prone skin, including stubborn adult acne.
But in case you're dissatisfied with the results, the brand will provide a full refund if you return the products within 60 days of purchase.
Ingredients
Like some of our other recommendations, this acne treatment system also utilizes benzoyl peroxide and salicylic acid, which help fight acne effectively and remove dead skin cells. But apart from that, the other science-backed ingredients of this system include:
1. Sulfur
Endowed with strong antifungal and antibacterial properties, sulfur can target acne lesions triggered by bacteria, hormonal imbalances, and dirt. Also, it doesn't have much of a drying effect on the skin, unlike a few other antibacterial ingredients.
2. Adapalene
This retinoid ingredient also works well in curing acne and acts in a similar way as benzoyl peroxide. In fact, a 2009 study[2] that drew a comparison between these two ingredients revealed that they produced similar results on the skin.
3. Glycolic Acid
Notably, this alpha-hydroxy acid is another common ingredient in skincare products due to its strong exfoliating property. Thus, it allows the generation of new skin cells and helps remove the dead cells from the skin surface.
How Does It Work
As mentioned earlier, each variant of the Proactiv Acne Treatment System is designed to work for a different skin type. For instance, the Proactiv Solution helps treat and prevent acne breakouts in oily and combination skin.
It kills acne-causing bacteria and eliminates the dirt and excess oil trapped in the pores, thanks to glycolic acid and benzoyl peroxide combined.
Likewise, the Proactiv+ is designed to fight acne on sensitive skin, which is why it comes with a more nourishing and moisturizing formula. An added advantage is the use of Smart Target technology in this kit that helps benzoyl peroxide dive directly into the pores to kill the bacteria while reducing dryness.
On the other hand, ProactivMD is meant for treating stubborn acne breakouts and the inflammation and redness in the adjoining areas. It utilizes a prescription-strength retinoid formulation that functions on a cellular level to enhance skin clarity. Plus, it helps restore even texture and tone by removing acne blemishes.
---
Mario Badescu Drying Lotion is the original, on-the-spot solution that targets surface blemishes while you sleep.
Overview
Towards the end, we've picked this Drying Lotion, a single skin-treatment product that's equipped to tackle many types of acne and heals the skin in the long run.
Designed for spot-treat blemishes, this lotion is actually a pink precipitate settled in a straw-colored fluid. Notably, the lotion comes packaged in a plain glass bottle, which is in line with the humble packaging characteristic of all Mario Badescu products.
Speaking of the range of application, you can use this lotion to treat surface blemishes on the chest, neck, and back too, apart from the face. Another interesting feature is that it's formulated to act on acne while you're asleep. This helps enhance the effectiveness of this lotion in treating acne from the roots.
Ingredients
First and foremost, this lotion includes significant amounts of sulfur and salicylic acid, which are the two key ingredients for fighting acne effectively. There's also zinc oxide, which enhances the anti-microbial action further, ensuring that your skin heals more quickly than while you're using average acne-fighting solutions.
Adding to this is the combined soothing power of calamine[3] and camphor, which helps reduce the itchiness and pain felt in case you're struggling with more severe acne. Furthermore, the formulation includes titanium oxide, which is a lightweight UV filtering agent for the skin and doesn't unclog pores.
How Does It Work
The highlight of this lotion is that it offers the ideal strength for dissolving and breaking up dead skin cells while ensuring that the skin doesn't turn dry or rough. In fact, this feature makes it one of the best acne treatment solutions you'll come across.
While ingredients such as salicylic acid and sulfur promote exfoliation and fight bacteria trapped deep in the skin pores, calamine has a soothing action that keeps your skin comfortable.
---
Buyer's Guide
When it comes to choosing an acne product, several factors are at play, such as the type, severity of the acne, your skincare preferences, and skin type. Here are two points to keep in mind while choosing acne products:
1. Begin With Benzoyl Peroxide
In case you aren't able to make up your mind on the acne product to go for, start with something that comes with benzoyl peroxide. It's least likely to cause any side effects and is truly effective. Also, make sure to give it some days to act on your skin properly before expecting positive results.
2. Opt For Lower-Strength Products At First
This can minimize dry skin, redness, and other similar skin issues related to acne. And if needed, increase the strength of the product you're using and the frequency of use over several weeks. As such, your skin will be able to adjust to the treatment gradually.
FAQs
Q1. Which Are Some Basic Skincare Practices To Prevent Acne?
Firstly, you must ensure your face stays clean throughout. Make it a daily habit to wash your face twice using a gentle cleanser to remove dead skin cells, extra oil, and impurities. Also, you should keep your skin moisturized using a suitable product.
Overusing makeup products is another common reason for acne popping up and aggravating eventually. So, make sure you use these sparingly to avoid such situations. We'd also advise keeping your scalp clean and your hair away from the face since hair products can sometimes wreak havoc on the skin.
Q2. What Is The Best Treatment For Hormonal Acne?
If the hormonal acne is mild, you can use topical retinoids as the cure since they are derived from Vitamin A. Note that many retinoid gels, lotions, and creams are available over the counter. But in case you're faced with more severe eruptions, it's best to consult a dermatologist regarding a prescription-strength formulation.
Verdict
That was all about the best acne treatments available on the market right now. We hope that, by now, you've been able to decide on the most suitable option for your needs.
So, take the first step towards achieving the acne-free, healthy, and comfortable skin you've always dreamt of. Don't forget to tell us about your experience in the comments section below.
But before we bring down the curtain, we'd like to share with you our top favorites from the list. We feel The Exposed Skincare Acne Treatment Kit is an ideal choice for those struggling with stubborn acne for a long time. But if you're looking for a mild acne-fighting kit that also offers a strong exfoliating effect, the Clearpores System is the ideal option.
On that note, we'll wrap up for today. But see you soon with more informative guides. Till then, take care!
Read Also:
References:
1. https://www.sciencedirect.com/topics/medicine-and-dentistry/benzoyl-peroxide
2. https://pubmed.ncbi.nlm.nih.gov/19746769/
3.https://www.wishtrend.com/glam/4-amazing-skin-benefits-of-calamine-for-acne-whats-the-catch