Imagine preparing your skin for weeks for a big event, and just the night before, a huge zit pops up on your nose!
Now, finding the root cause of acne is quite a challenge. From internal factors[1] like hormonal imbalance, indigestion, stress, and depression, to external elements like dust and seasonal changes- pimples just need an excuse to drop by!
Enter ClearPores Acne Treatment and Skin Cleansing System. This set includes natural and effective products that may help calm irritated and sensitive skin, reduce acne breakouts, clogged pores, and more.
So, if none of your DIY skincare blends or expensive products have been working till now, read on to know more about this easy acne treatment.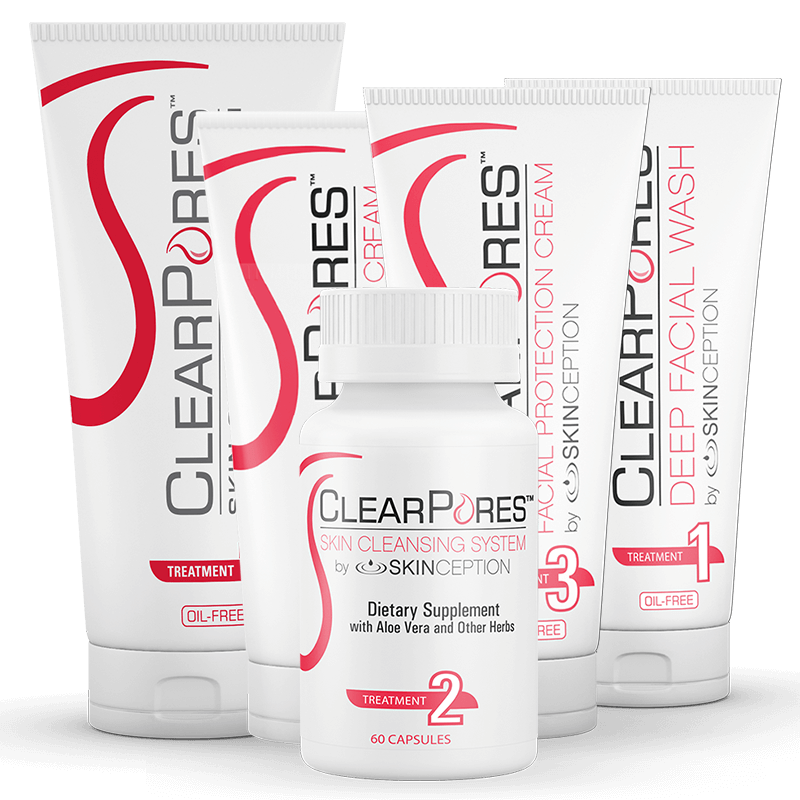 The ClearPores Acne Treatment and Skin Clearing System includes a deep facial wash, protection cream, and skin cleaning herbal supplement. However, you can choose to purchase these products separately or get a customized bundle.
What Is ClearPores Acne Treatment & Skin Cleansing System?
The ClearPores System is a scientifically proven formula consisting of a range of effective acne-busting products. Manufactured in a cGMP-certified facility, the products contain safe and clean ingredients only. Since the set includes a dietary supplement, too, you will be able to treat acne inside out, making it more effective and potent.
Suitable for both men and women, the skincare system typically consists of three products (you can reduce or add accordingly).
The first product is the Deep Facial Wash that claims to clear pores and remove acne-causing bacteria. It is a water-based facial wash, making it suitable for oily, acne-prone skin.
Next comes the Protection Cream that helps seal the moisture and "good" natural oils, giving your skin a healthy glow. Thanks to its non-comedogenic nature [2], the product will not feel sticky and heavy. And unlike most oily creams and moisturizers out there, this protection cream will not cause any irritation and acne breakouts.
Last but not least is the dietary supplement containing aloe vera and other skin-friendly herbs. These capsules are a game-changer for those who have struggled with acne despite trying multiple skincare products. Internal factors like hormonal imbalances and toxins in the blood flow stand no chance against this natural and effective product.
Additionally, if your main concern is body acne, ClearPores has got something in store for you, too. You can check out the body wash and cream, which work similar to the previously-mentioned products, but only better!
Note that all of the products by the brand are natural, safe to use, and do not need a doctor's prescription. However, since everyone's skin is different, we still recommend consulting your dermatologist before trying any skincare product.
How Does ClearPores System Work?
1. ClearPores Deep Facial Wash
The first step is to wash your face with ClearPores Deep Facial Wash, enriched with seed extract, ulmaria root extract, salicylic acid (beta hydroxy acid), xantham gum, and more. Its oil-free formula controls sebum production and removes accumulated skin cells that keep you from achieving clear skin.
Basically, the formula "opens up" your pores to eliminate accumulated dirt, bacteria, and toxins. Additionally, it helps preserve the "good" natural oils, thereby preventing any dryness or irritation.
Note that the product contains alcohol, which may not be suitable for all. However, many customers have testified that the product can be used on sensitive skin without fearing any adverse effects.
2. ClearPores Facial Protection Cream
Thought removing excess oil is enough to get rid of acne? Think again, because stripping off the natural moisture from your skin can aggravate it further[3]. In fact, the more you dry out your skin, the more oil it will produce to maintain moisture and the natural pH balance.
Hence, the ClearPores skincare system consists of this nourishing and lightweight cream, ideal for oily, acne-prone skin. It is best to use it right after washing your face to keep it hydrated and protected against external impurities.
3. ClearPores Herbal Supplement
Jam-packed with 12 powerful natural ingredients, this supplement fights acne by targeting its root cause. As mentioned earlier, acne can be caused by various external and internal factors, the latter including hormonal imbalances, toxins in the blood flow, etc.
Thus, this dietary supplement offers the best of naturopathic knowledge to maintain hormonal balance and eliminate toxins. It may also improve blood circulation and regulate the digestive system to flush out waste elements efficiently.
Interestingly, unlike other brands, ClearPores makes it clear that the products will not ensure beautiful skin overnight. Instead, you will have to be patient for a few months to enjoy the true benefits of each product.
Additionally, the brand mentions the possible results in a monthly timeline. Accordingly, you may see more acne flare-ups in the first month if you have been suffering from severe acne all this time. However, that's a normal reaction since the supplement is detoxifying your skin, resulting in more breakouts.
Thankfully, in the second month, you will be able to experience positive changes like reduced redness and fading acne scars. This is when the skin pH balance is restored, leaving your skin clean, smooth, and refreshed.
The third month is when your skin will look and feel its best! Remember that depending on your diet and routine, you may get a pimple or two sometimes, but the frequency will be reduced significantly.
Who Is The Manufacturer Of ClearPores System?
The ClearPores acne clearing system is manufactured by Skinception, founded by Dave David, M.D. The idea behind the brand was to tackle the signs of aging by using scientifically-approved ingredients. No wonder the brand is deemed as the pioneer in advanced skincare!
Other than treating acne, Skinception offers a range of clinically-tested and potent products for wrinkles, stretch marks, hyperpigmentation, and more. Plus, each formula contains naturally-derived active ingredients backed by scientific research, clinical trials, and medical studies.
What Are The Ingredients Of ClearPores System?
1. ClearPores Deep Facial Wash
You must have heard of the benefits of salicylic acid[4] for irritated and pigmented skin. Suitable for normal, combination, and oily skin types, this BHA chemical exfoliant is the main ingredient in this facial wash.
First off, thanks to its oil-based nature, the skin-friendly acid removes excess oil and regulates sebum production in the long run. Unlike other ingredients, it gets deep into the pores, underneath the accumulated oil and dirt.
Further, since it is comedolytic, it prevents whiteheads and blackheads from reappearing, and its peeling properties remove dead skin cells for a smooth, pore-free look. It is also a lot gentler than other exfoliants like benzoyl peroxide and azelaic acid.
The entire ingredient list of the face wash is as follows…
Water
Glycerin
Glyceryl stearate
PEG-100 stearate
Salicylic acid (beta hydroxy acid, abbreviated BHA)
Propylene glycol
Cetearyl alcohol
Polysorbate 60
Cyclopentasiloxane
Sclerotium gum
Xantham gum
Linum usitatissimum (linseed) seed extract
Ulmaria (meadowsweet) root extract
SD alcohol 40
Calcium aluminum borosilicate
Retinyl palmitate
Tocopheryl acetate
Polysorbate 20
Farnesol
Methylparaben
Propylparaben
Bisabolol
Disodium EDTA
BHT
Capryloyl glycine
Phospholipids
2. ClearPores Facial Protection Cream
Every skincare routine should consist of a gentle moisturizer to protect the skin from further damage once it's washed. The ClearPores protection cream is ideal for the task since it is oil-free, fragrance-free, and gentle on the skin.
The anti-inflammatory formula contains alpha hydroxide acids that boost hydration and offer a dewy glow. In addition to that, the beta hydroxide acids ensure clear pores by preventing impurities from settling on the skin. Overall, you will achieve healthy skin that looks and feels supple without the oily shine!
The rest of the ingredients are as follows…
Water
Isopropyl palmitate
Propylene glycol
Cetearyl alcohol
Cetyl alcohol
Glyceryl stearate
Stearath-21
Dimethicone
Soy lecithin
C13-14 isoparaffin
Ceteth-10 phosphate
Steareth-2
Thioctic acid
Glycolic acid
Salicylic acid
Potassium hydroxide
Citric acid
Diazolidinyl urea
Laureth-7
Methylparaben
Disodium EDTA
Propylparaben
3. ClearPores Herbal Supplement
Acne caused by external factors is often temporary, but your acne may worsen over time if the root cause is internal. However, it is not as easy as chugging multiple bottles of water and getting seven hours of sleep every day!
That's when you'll need something like this dietary supplement by ClearPores. With the goodness of natural ingredients, these capsules will help flush out toxins from your body, the effects of which will appear on your skin.
Here's how each ingredient will help with the healing process of your skin…
Aloe vera: Its soothing properties[5] make it a must for inflamed skin.
Sarsaparilla root: Combined with aloe vera, this root is ideal for preventing acne breakouts and soothing redness.
Licorice root: Enriched with anti-bacterial compounds, it controls androgen production, which, in turn, reduces sebum.
Dandelion root: Historically popular for its anti-inflammatory properties, dandelion root soothes the digestive system and helps clear your skin inside out.
Burdock root: A herbal blood purifier, this root works similar to the previous ingredient by flushing out toxins.
Atlantic kelp: This ingredient boosts metabolism and fastens the healing process of the skin.
Cayenne: This pepper extract unclogs pores and improves blood circulation.
Yellow dock root: Much like the previously mentioned roots, yellow dock root also purifies the blood and eliminates toxins.
Cottonseed oil: It increases the bioavailability of the key ingredients.
Turmeric: Used since times immemorial for its anti-inflammatory and anti-bacterial properties, turmeric helps fight acne and maintain blood circulation.
Echinacea: This ingredient boosts the immune system, thereby removing acne-causing bacteria.
Red clover: Works best with licorice extract; red clover stimulates the effect of estrogen and controls sebum.
FAQs
Q. Should You Buy ClearPores Products From Third-party Sites?
Although you can find ClearPores products on third-party sites, we recommend sticking to the official website for purchasing. This is because the former may sell defective or expired items, which will only cause more harm than good. Since acne-prone skin is usually sensitive, it's best to stay on the safer side and use genuine and effective products.
However, you can check out third-party sites to read customer reviews of the products.
Q. Do You Need A Doctor's Prescription For Buying And Consuming ClearPores Herbal Supplement?
Since the supplement consists of natural ingredients only, you do not need a doctor's prescription. The chances of you suffering from any side effects are also close to none. However, we still recommend consulting your doctor/dermatologist instead of blindly experimenting with new products.
Q. Who Should Not Use ClearPores Skin Cleansing System?
Those with dry skin should not use any of the products mentioned above. This is because both the topical items contain alcohol, which may strip off the little moisture that your skin may have.
Conclusion
So, if even after doing the viral 10-step skincare routine, your skin just doesn't care, try these simple yet effective products from ClearPores. Honestly, with the no-gimmick refund guarantee, you've got nothing to lose!
But if you're still skeptical, the brand has mentioned all of the ingredients on the website, so you can always discuss the effectiveness of the products with a medical professional.
Additionally, we suggest avoiding oily food items and carbonated drinks to keep your internal system in check. You can also consider wearing a mask, hat/scarf, or sunglasses if you'll be spending long hours outside.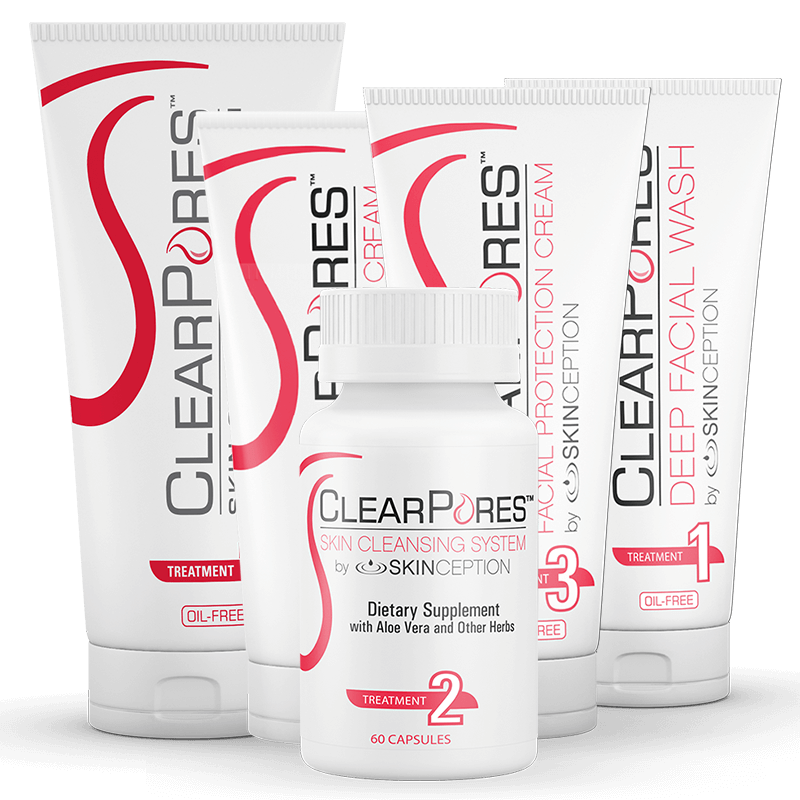 The ClearPores Acne Treatment and Skin Clearing System includes a deep facial wash, protection cream, and skin cleaning herbal supplement. However, you can choose to purchase these products separately or get a customized bundle.
References:
[1] https://intermountainhealthcare.org/blogs/topics/live-well/2017/11/6-surprising-causes-of-adult-acne/
[2] https://www.healthline.com/health/beauty-skin-care/non-comedogenic
[3] https://www.aad.org/public/diseases/acne/skin-care/habits-stop
[4] https://www.webmd.com/drugs/2/drug-18-193/salicylic-acid-topical/salicylic-acid-for-acne-topical/details
[5] https://www.medicalnewstoday.com/articles/aloe-vera-for-face