Paula's Choice Clear Review
You're all set to attend your childhood best friend's wedding, and a big pimple decides to show up right on the forehead! Sounds scary, right?
Though DIY home remedies may help clear acne, it doesn't prevent future breakouts. And if you're thinking of going for chemical peels, laser surgery, or botox to get rid of skin issues, we'd urge you to stop right there! That's because acne treatments are scarily expensive and result in adverse side effects.
Lately, Paula's Choice CLEAR has become the talk of the town because of its fast-acting formula that works to fight acne and occasional breakouts. Even though it doesn't cost a bomb, it is still expensive. Hence, we wondered whether this three-step routine is worth the hype and whether it is an ideal skincare product for acne-prone skin?
So, if you're wondering the same, you've dropped by at the right place. That's because we'll be reviewing Paula's Choice Clear today.
Let's dive right in!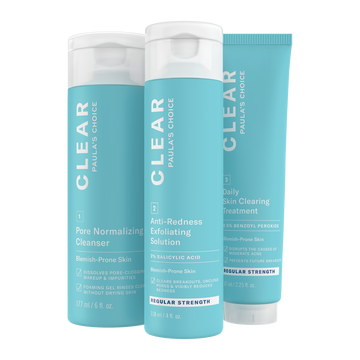 This 3-step routine quickly combats and controls acne and breakouts, unclogs pores and calms redness without causing dryness or flaking.
Overview Of Paula's Choice CLEAR
If you've suffered from acne breakouts throughout the teenage years, you know how difficult it is to get rid of them. Fortunately, Paula's Choice CLEAR is here to help you in your journey to get rid of such skin problems.
The kit includes a pore-normalizing cleanser, an anti-redness exfoliating solution, and a daily skin clearing treatment. From cystic acne to moderate acne, this three-step routine has got you covered for all types of breakouts. Hence, it will be your best friend in your journey to achieve clean and clear skin.
Who Is The Manufacturer Of Paula's Choice CLEAR?
Launched in 1995, Paula Begoun is the founder of the brand Paula's Choice. For over 35 years, the brand has been pumping out innovative beauty products to help women transform the appearance of their skin. Backed by real results and scientific research, its products are non-irritating and fragrance-free.
Paula's Choice has it all: BHA Liquid Exfoliant, Boosters, or Retinol. And the best part? The brand is Leaping Bunny certified, so you can rest assured that its products are not tested on animals.
After launching several top-notch beauty products, Paula's Choice CLEAR came to the market in 2009. Initially, it was launched in Hongkong and Thailand, and later it was made available in other countries.
Additionally, Paula's Choice products were available only through its official website earlier. Only last year, Paula's Choice started selling its products through Sephora stores across the US.
What Are The Ingredients Of Paula's Choice CLEAR?
There's no denying that the ingredients play an essential role in determining the effectiveness of any skincare product. That's why it's important to look at what goes into the formula before you start using it.
Keeping this in mind, we decided to delve a bit deeper to see what makes this formula an excellent choice for acne-prone skin, and here's what we found:
1. CLEAR Pore-Normalizing Cleanser
A) Primary Ingredient – Salicylic Acid
If your skin care regime doesn't begin with cleansing, then chances are you're doing it the wrong way. People with oily skin know that finding the right cleanser for their skin type is daunting. Fortunately, this pore-normalizing cleanser is an excellent choice for all oily skin beauties.
The main ingredient added to this cleanser is salicylic acid [1]. Known as an anti-acne ingredient, salicylic acid exfoliates the skin and reduces acne, along with clearing clogged pores.
Salicylic acid can also prevent future breakouts thanks to its anti-inflammatory and anti-bacterial properties. And this is why it is one of the main ingredients in every anti-acne product.
Since it is oil-based, salicylic acid works by penetrating the skin so deeply that it ruptures the bond between skin cells. As it targets clogged pores and exfoliates the skin, it also prevents the appearance of blackheads and whiteheads. To put it simply, salicylic acid is one of acne's biggest enemies.
B) Additional Ingredients
Besides salicylic acid, CLEAR Pore-Normalizing Cleanser consists of:
Sodium lauroyl sarcosinate
Water (Aqua)
Glycerin
Acrylates/​Steareth-20 methacrylate copolymer
PEG-200 hydrogenated glyceryl palmate
Arginine
Sodium laureth sulfate
Butylene glycol
PEG-7 glyceryl cocoate
Disodium EDTA
Panthenol
Sodium citrate
Caprylyl glycol
Citric acid
Phenoxyethanol
Chlorphenesin
PEG-60 hydrogenated castor oil
PEG-7 glyceryl cocoate
2. CLEAR Anti-Redness Exfoliating Solution
A) Salicylic Acid
While pore-normalizing cleanser works to unclog pores, the anti-redness exfoliating solution immediately reduces bumps, acne, and pimples. Much like the cleanser, the key ingredient of this solution is salicylic acid [2].
It exfoliates the skin perfectly well by removing the dead skin cells. This, in turn, enhances the skin texture and makes it bright.
Worried about those stubborn blackheads popping up every now and then? Well, this exfoliating solution has got you covered. As it is oil-based, it penetrates into the skin, reduces oiliness, and calms redness without causing any irritation. And the best part is that this exfoliating solution does all this in the most gentle and non-abrasive way.
B) Hyaluronic Acid
Another important addition to this solution is hyaluronic acid [3]. Also known as sodium hyaluronate, this ingredient helps the skin to retain moisture. Hence, this gentle leave-on exfoliant provides light hydration that keeps the skin healthy and flake-free.
C) Green Tea
The solution also contains naturally-extracted green tea [4], which is a potent antioxidant. Thanks to its anti-inflammatory, anti-bacterial, and antioxidant properties, green tea works to fight acne and soothes irritation.
D) Additional Ingredients
Other ingredients added to this formula are as follows:
Dipropylene glycol
Water (Aqua)
Pentylene glycol
Butylene glycol
Polysorbate 20
Dipotassium glycyrrhizate
Glycerin
Panthenol
Allantoin
PEG/PPG-17/6 copolymer
Glycereth-26
Methyl Gluceth-20
Sodium hydroxide
Bis-PEG-18 methyl ether dimethyl silane
Sodium metabisulfite
Tetrasodium EDTA
3. CLEAR Daily Skin Clearing Treatment
A) Benzoyl Peroxide
Finding a product that targets both acne and blemishes is challenging. Thankfully, this daily skin clearing treatment has got your back. With the benefits of benzoyl peroxide, this blemish treatment fights acne and works to prevent breakouts in the future.
Benzoyl peroxide [5] unclogs pores by getting rid of excess oil and dead skin cells, thereby treating and preventing acne breakouts. Though it is well-known to treat red bumps or inflammatory acne, it can treat cystic acne too.
Whether you pick at the lesions or not, some pimples do leave scars. Of course, everyone loves their skin spotless, and benzoyl peroxide works to lighten these scars. So, if you use this solution daily, it's highly probable that you will notice the marks become less prominent.
B) Bisabolol
Bisabolol [6] is another important ingredient added to this solution. Having powerful anti-inflammatory and anti-irritant properties, bisabolol works well on acne-prone skin.
For those who suffer from rashes or red bumps, the product will fade red marks on the face. That said, bisabolol is one of the key ingredients in sunscreen and anti-acne products.
C) Allantoin
Loaded with the goodness of Allantoin [7], this solution will reduce irritation caused by pimples and work to soothe and calm the skin. Also, it is known to help in the regeneration of cells which will lighten the scars.
D) Additional Ingredients
Besides the ingredients mentioned above,
Water (Aqua)
Acrylates/C10-30 alkyl acrylate crosspolymer
Propylene glycol
Sodium citrate
Hydroxyethylcellulose
Laureth-4
Sodium hydroxide
Hexylene glycol
Phenoxyethanol
Disodium EDTA
Caprylyl Glycol
How Does Paula's Choice CLEAR Work?
This three-step skincare system consists of a cleanser, an exfoliating solution, and a skin-clearing treatment. With salicylic acid and benzoyl peroxide as active ingredients, this three-step skincare system is an effective acne treatment that works to combat stubborn acne, blemishes, blackheads, and breakouts.
Since the formula of these acne products is lightweight, it will fight and prevent acne while being gentle on the skin. Additionally, this product does not cause redness or dryness as it is free from harsh ingredients.
The best part of this skincare system is easy to use. First comes the pore-normalizing cleanser that you can use either in the morning or night. It is followed by the exfoliant solution and skin-clearing treatment, which will be used twice a day.
Even though the products are crafted using advanced ingredients, patch-testing is recommended to be on the safe side. Also, avoid using all the products in one go because the brand recommends adding each product gradually to your skincare regime.
Additionally, you must apply an SPF 30+ during the daytime to save your skin from harmful UV radiations. Nevertheless, make sure you consult a medical professional as it contains salicylic acid, which may not make it an ideal option for those suffering from salicylate allergy.
Benefits Of Paula's Choice CLEAR
Backed by scientific formula, Paula's Choice CLEAR is gentle yet tough on acne, enlarged pores, and breakouts. Since the formula consists of anti-acne ingredients and cleansing agents, it works together to provide skin-perfecting benefits.
Thanks to the hydrators, this three-step skincare system will eliminate acne, blemishes, breakouts, and blackheads without stripping the moisture from the skin. With consistent usage, your pores will be unclogged and also minimized.
Besides being easy to use, the formula of these products is lightweight. Hence, it penetrates into the skin perfectly well. Dry, oily, normal, sensitive, cystic, acne – no matter what your skin type is, this formula works perfectly well on all skin.
Drawbacks Of Paula's Choice CLEAR
Cannot be used by those who suffer from salicylate allergy
Overuse can lead to irritation
A little costly
FAQs
Q. Can I Buy Paula's Choice Products From Third-Party Sites?
Though you can buy Paula's Choice products from third-party sites, we suggest you avoid doing so. That's because they might send duplicate or expired products to you that can damage your skin.
Q. How Often Can I Use Paula's Choice CLEAR?
Since the formula is free from harsh ingredients, you can use it daily without worrying about any side effects. Also, if you've never used salicylic acid before, we suggest you begin by using one product at a time. This way, you'll be able to know how your skin reacts to salicylic acid.
Q. Who Should Avoid Using Paula's Choice CLEAR?
Anyone who suffers from salicylate allergy should not use this three-step skincare system. As both the cleanser and exfoliant contain salicylic acid, it may cause dryness or severe burns.
Conclusion
If you've tried DIY home remedies, countless beauty products and are still struggling to have spotless skin, try this three-step skincare system. Paula's Choice CLEAR can lend you a helping hand to achieve the spotless skin you've always wanted.
However, if you have any doubts regarding the products, we suggest you consult a medical professional. Only after you're confident that this skincare kit is the one for you, go ahead and order it through its official website.
That said, we'll call the curtains for the day. Be sure to let us know your opinion on this product. Till then, take care!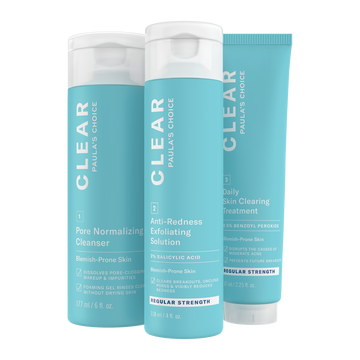 This 3-step routine quickly combats and controls acne and breakouts, unclogs pores and calms redness without causing dryness or flaking.
References:
[1] https://www.medicalnewstoday.com/articles/salicylic-acid-for-acne#:~:text=Salicylic%20acid%20works%20to%20treat,production%2C%20leading%20to%20fewer%20breakouts.
[2] https://www.healthline.com/health/skin/salicylic-acid-for-acne
[3] https://www.npdermatology.com/blog/better-skin-care-improve-your-skin-with-hyaluronic-acid#:~:text=While%20hyaluronic%20acid%20can't,a%20very%20strong%20lipid%20barrier
[4] https://www.healthline.com/health/beauty-skin-care/green-tea-for-acne#:~:text=Many%20studies%20also%20indicate%20that,%2Dprone%20skin%20(%2028%20)
[5] https://www.healthline.com/health/benzoyl-peroxide-for-acne
[6] https://www.colorescience.com/blogs/blog/bisabolol#:~:text=Bisabolol%20can%20help%20with%20current,it%20can%20help%20prevent%20acne
[7] https://www.medicoverhospitals.in/medicine/allantoin#:~:text=For%20the%20soothing%20properties%20allantoin,and%20helps%20in%20cell%20rejuvenation