It's no secret that the skincare market is flooded with anti-wrinkle creams.
While most of them promise to make your skin younger or more, they don't always deliver on the claim. And if you end up choosing the wrong product, it will invariably do more bad than good to your skin. So, how do you pick the right one?
We have taken it upon ourselves to review the five best wrinkle creams for the face and provide all the information required to help you make the right decision. Let's dive in then, shall we?
Top 5 Wrinkle Creams
Help improve your skin's natural collagen production to lift, firm and smooth the skin and visibly reduce lines and wrinkles.
One of our top recommendations of the day is the XYZ Smart Collagen wrinkle cream, which has a "smart collagen management" system formulation. It helps reduce the visible signs of skin aging while boosting collagen production. Not only that, but it also helps restore skin elasticity, firmness, and texture.
In hindsight, it strikes the right balance between collagen production and breakdown, which allows the skin to hold on to its tightness and structure. As a result, your skin looks fresh and radiant for a prolonged time.
Moreover, Wolfson Berg Limited, its parent company, has manufactured the cream from natural, organic, and sustainably grown ingredients under high-quality industry standards. And considering their expertise in creating top-notch natural cosmetics from the finest ingredients, this doesn't come as a surprise.
Type Of Ingredients
Collagen booster
Who Should Use It?
XYZ Smart Collagen is for any female aged between 45 and 65 years, troubled by the signs of skin aging, such as wrinkles, fine lines, sagging, and dullness. It's designed to suit all skin types, even those with tattoos.
Primary Benefits
Visible reduction of wrinkles and fine lines on the face and around eyes
Tightens sagging skin, enhances the definition of facial contours
Improves elasticity, density, and firmness for a more even skin tone
Smoothes and rejuvenates skin texture
Lightens stretch marks to reduce their appearance
How To Apply It?
Wash your face and neck, pat dry the skin, and apply the required amount using gentle upwards messaging strokes till the skin completely absorbs it. The brand recommends applying it on the face twice a day in the morning and evening for at least 84 days to see positive results.
Since sun exposure can fast-track skin aging, follow it up with a generous amount of sunscreen during the day.
Who Shouldn't Use It?
If you suffer from skin conditions like psoriasis or are under 18, refrain from applying it without consulting a dermatologist.
What Goes Into Its Making?
Its main ingredient is the Bulbine Frutescens sap (1), extracted from the leaf of the namesake South African plant. The brand uses cold-pressed extraction methods to extract optimum sap and preserve the quality of its primary compounds, viz., acetylated polymannose (APM) and knipholone.
While the former taps the fibroblast cells to enhance the production of high-quality collagen, the latter stops collagen breakdown. And they do so without alarming the body's immune system, which would otherwise interrupt the collagen formation process to create an overload of low-quality collagen. This is because, unlike most wrinkle creams on the market, it doesn't contain TGF-B or any of its harmful alternatives.
Although this compound boosts collagen, it can send the production into overdrive. And such an uncontrolled production usually fills your skin with low-grade collagen.
Apart from that, it turns off your leukotriene synthesis, inhibiting large-scale collagen production by the fibroblast cells (2). Remember that such a large amount of collagen won't do any good to your skin without proper elasticity. This is why many collagen-boosting formulations fail to give you the desired results even with continuous, long-term use.
You will also be happy to know that the vegan-friendly formulation doesn't contain any chemical fillers, minerals, palm kernel, or palm oils. Hence, it's largely free from adverse side effects, like irritation, redness, cracked skin, inflammation, etc.
In fact, many users have termed it as one of the best wrinkle creams for the face that uses a natural formula to fight against signs of aging. The cream comes in a 60ml bottle, which may last for 30 days. However, you can find bundle packs on the official website that come with free shipping.
---

Next up on our list is the Skinception Kollagen Intensive lotion, favored by professionals and novices alike. Its one-of-a-kind formulation helps stimulate collagen and inhibits wrinkle formation to give you younger and plump skin.
What makes it extremely trustworthy is the fact that it has been developed by Dr. Dave David, MD, who is a (board-certified) obstetrician and gynecologist-turned cosmetic surgeon.
The effective "anti-aging" formula consists of highly beneficial active ingredients, which help reduce the appearance of fine lines and improve skin tone. Not only that, but it also eliminates the need to use multiple creams. In fact, many users have already named it the best cream for deep wrinkles.
We also liked how this product is backed by a 100% satisfaction guarantee and a 67-day money-back policy. Unsatisfied users can return new or existing tubs within the said period to avail a refund.
Type Of Ingredients
Collagen booster
Who Should Use It?
If you're on the lookout for an effective anti-wrinkle cream, especially during your mid or late 30s, then the Skinception Kollagen Intensive lotion should fit the bill. It's also a good option for users who don't want the hassle of using too many anti-aging products.
Moreover, its hydrating and moisturizing properties can help keep the skin hydrated, excellent for dry and aging skin.
Primary Benefits
Increases natural collagen and minimizes sun damage
Reduces fine lines and deep wrinkles
Enhances skin elasticity, firmness, and texture
Lightens stretch marks, dark spots, and dark circles
Prevents free radical damages and collagen breakdown
Ingredients like hyaluronic acid moisturize and hydrates dry skin
Enhances contours and evens skin tone
How To Apply It?
Simply take the lotion and apply it on cleansed face and neck, twice daily (morning and night). You don't need to follow it up with a separate day or night cream. Some users have considered it the best wrinkle cream for deep wrinkles under-eyes as well, so you may not need a separate eye cream at all.
However, the brand recommends continuing it for at least 67 days (which will require two jars) to see all the benefits.
Who Shouldn't Use It?
Although the brand hasn't mentioned any expectations per se, you should always confirm that you aren't allergic to any of the ingredients before purchasing it.
What Goes Into Its Making?
The Kollagen Intensive lotion is created from a potent mix of some of the best collagen-producing and skin-enhancing vitamins, essential oils, fatty acids, and antioxidants, to name a few.
But its primary ingredient is the patented peptide syn-coll (3), which diminishes fine lines and wrinkles and tightens the skin. Beyond that, the cellular messenger palmitoyl oligopeptide (4) content contributes to collagen boost for overall skin repair.
As far as natural oils are concerned, the combination of shea butter and glycine soja (soybean) oil introduces a variety of bio-active triterpene esters, lecithin, sterolins, and vitamin E. All these elements play a vital role in moisturizing and softening your skin, as well as improving its natural moisturizing factor.
The formula also includes the Cyclopentasiloxane compound, which protects the skin against the sun's harmful UV rays. It can also assist the other ingredients in smoothing fine lines to reverse the photoaging effects.
Other than that, the presence of dipalmitoyl hydroxyproline can tighten the skin by contracting the collagen fibers. It also helps prevent the skin barrier from free radical damage and reduces the intensity of stretch marks or other age spots.
Likewise, the tocopherol compound slows down the process of premature skin aging while healing and preventing scars. Besides, magnesium ascorbyl phosphate (vitamin c) in the formula can expect a brighter complexion and reduced melanin production. And its biggest plus is that it suits sensitive skin types.
Now, if you're worried about the number of active ingredients, the Cucumis sativus (Cucumber) fruit extract and palmitoyl tetrapeptide-3 compounds will provide your skin with some much-needed anti-inflammatory properties. The other ingredients include:
Glycerol
Camellia Sinensis (Green Tea) leaf extract
Hydrolyzed Hibiscus esculentus extract
Acetyl Hexapeptide-3
---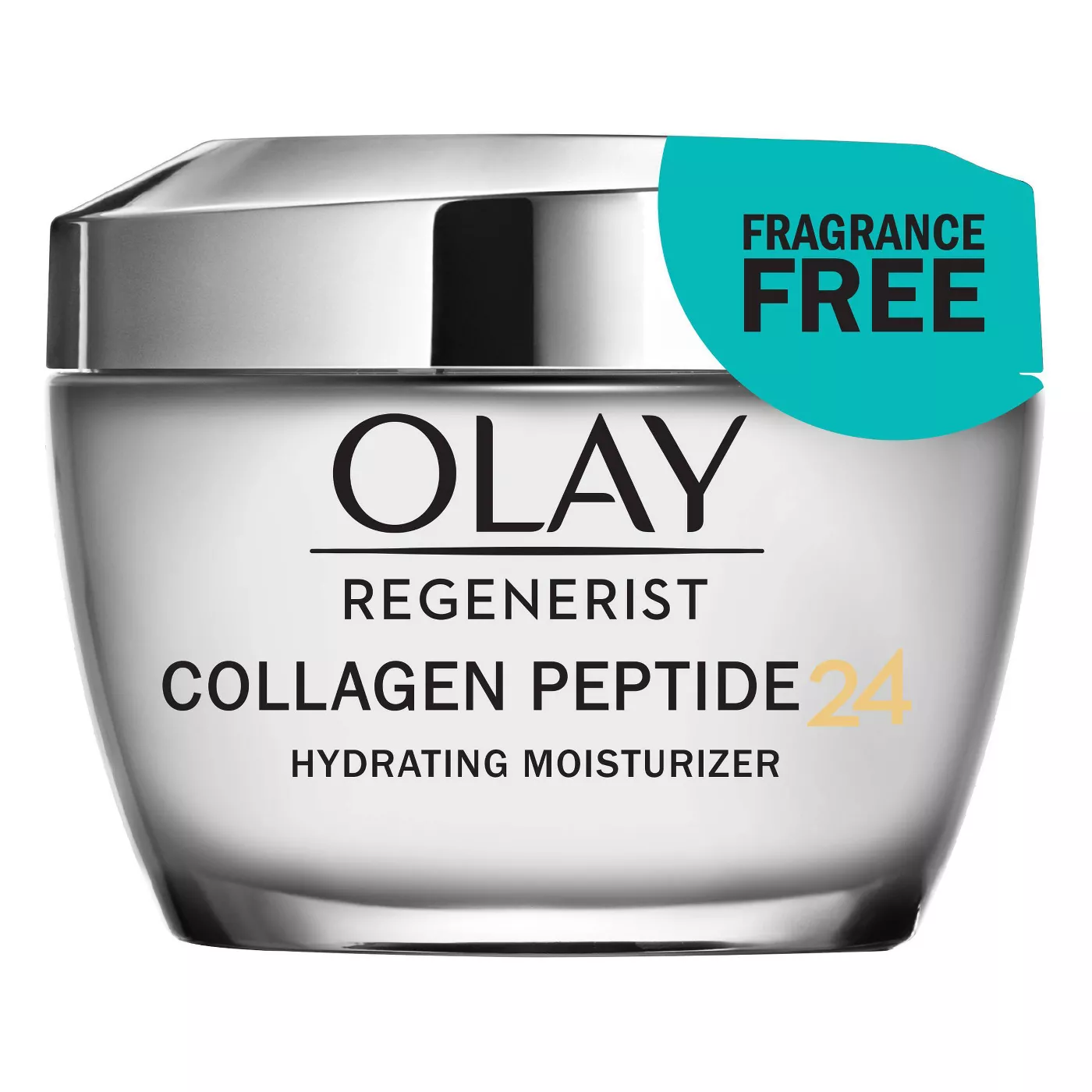 We couldn't have completed this list without mentioning a product from Olay, one of the most well-known skincare brands in the US. With over six decades of experience in...
In line with its commitment to satisfy a diverse customer base, its Regenerist Collagen Peptide 24 Face Moisturizer has a lightweight and moisturizing formula made from the powerful combination of collagen and peptide. Aside from providing 24-hour intense moisturizing, it can plump up your skin and cut down on the appearance of wrinkles or fine lines.
What's more, the skin-friendly formula is free from any artificial additives, like phthalate, paraben, and fragrance. With all that said, let's dive deeper into the ingredients and benefits of this budget-friendly formula.
Type Of Ingredients
Anti-aging and skin rejuvenating
Primary Benefits
Removes wrinkles, fine lines, and expression lines
Day-long moisturization and prevents dryness of skin
Increases fullness of the skin
Lightweight, non-greasy formula absorbs quickly and doesn't clog pores
No artificial fragrance, phthalate, paraben, or dye
Suitable for dry and combination skin
How To Use It?
Take the cream and apply it on cleansed face and neck, twice daily (morning and night). And the best part about this product is that you don't need to follow it up with a separate day or night cream.
Who Shouldn't Use It?
Despite being one of the more budget-friendly options, this cream is ideally meant for people with dry and combination skin but not for oily skin. And like some of our other recommendations, it should only be used on mature skin.
Moreover, there are no clear declarations if the product is cruelty-free and suitable for vegans, so you may want to look at the other options on our list.
What Goes Into The Making?
As the name has already suggested, the primary ingredients of this cream are two potent anti-aging and skin rejuvenating compounds, namely collagen peptide (5). For the unversed, collagen peptides are small pieces of collagen that are extremely helpful in preventing the top or dermal layer of the skin.
Additionally, the vitamin B3 compound (6) in the mix helps in evening skin tone for a softer and finer appearance.
As a result, your skin remains shielded from a range of damages, including the ones caused by the natural aging process and exposure to the sun. On top of that, the moisturizing properties keep your skin hydrated and plump for 24 hours post-application.
---
If you're tired of waking up to find new wrinkles and fine-lines appearing, look no further than Lucent Skin's #1-selling anti-aging product. In just a few short weeks, you can completely transform your complexion!
Revitol was founded in the early 2000s and since then has emerged as a reliable name in the beauty industry. It aims at providing premium and effective products that can be easily incorporated into any skincare routine.
And for this, the team conducts thorough research and development to curate their products under the right manufacturing conditions from the best ingredients worldwide.
Type Of Ingredient
Emulsifier
Who Should Use It?
This anti-aging cream from the house of Revitol can be a good pick if you're suffering from the common signs of skin aging, like fine lines and wrinkles. Additionally, the brand claims that it can render face lifting and contouring effects by being an effective and natural alternative for botox. Hence, it can be named among the best wrinkle creams for smile lines.
Ingredients like glycerin and shea butter make it a 24-hour hydrator. It can also help you treat acne! So, if you want moisturized and dewy skin without fearing breakouts, then this product is worth the try.
Primary Benefits
Revitalizes dead skin cells (skin cell turnover) to reduce signs of aging
Removes wrinkles, fine lines, and expression lines
Fast tracks production of fresh skin cells
Eliminates effects of tanning, crow's feet, and dryness
Brightens skin tone and fades blemishes
Increases moisture and fullness of the skin
How To Apply It?
Wash your face with a suitable cleanser, pat dry with a clean towel, and apply the cream by warming it up slightly between your fingertips. Since the brand doesn't specifically mention the frequency of application, we'd suggest starting with once a day to see if your skin reacts to it.
If there are no side effects, redness, or inflammation, apply it twice a day. Depending on the structure of your skin and how well it absorbs the ingredients, you may well see the results within a few weeks.
Who Shouldn't Use It?
The brand doesn't state if the gelatin compound is derived from plant or animal sources. So, we'd advise avoiding it if your skin cannot tolerate compounds derived from animals. In addition, the glycerine content doesn't make it the best wrinkle cream for oily skin, especially when being used twice a day.
What Goes Into Its Making?
The formula contains only a few natural extracts, roots, herbs, and oil. But the brand has only picked them after ensuring their age-defying properties.
As such, the primary components are ritapro 165, matrixyl, and shea butter. Starting with ritapro 165, it can render multiple benefits, like providing moisture to the skin cells and reinforcing elasticity and firmness to smooth fine lines and remove wrinkles.
On the other hand, matrixyl (7) has proved to supply double the amount of collagen required by the skin to maintain and boost its elasticity. Besides, the antioxidants and phytosterols in shea butter can reduce wrinkles while shielding the skin from UV damages.
The formulation also includes phytoceramides (8) to keep the skin smooth and primrose oil, especially beneficial for acne-prone skin. Additionally, the gelatin and glycerin content can refresh old and new skin cells and infuse moisturization to give you supple skin.
---
So you can apply it and head out for the evening and look instantly younger. It's the ultimate confidence booster, made possible by a Botox-derived peptide called Argireline, which freezes the muscular contractions that lead to wrinkles, and combines...
Surprisingly, it's made from only two ingredients that provide it with amazing benefits to make your skin look radiant and vibrant as ever within just 8 hours of application. Besides, it's ideal for people who may be wary about putting too many active ingredients on their skin.
This anti-aging serum mainly focuses on reducing wrinkles and deep lines by firming the skin and relaxing the facial muscles. And just like the Kollagen Intensive lotion, this one also comes with a 67-day money-back policy. Users can even return the empty container to get their money back.
Type Of Ingredients
Moisturizing and anti-aging
Who Should Use It?
The Instant Wrinkle Reducer is a great option if you want to reduce the appearance of wrinkles and shrink the pores instantly without any uncomfortable drying of the skin. Its moisturizing properties make the skin look healthier, minus the heaviness or oiliness.
Primary Benefits
Antioxidants protect skin from free radicals and oxidative stress
Prevents skin barrier from UV rays and pollutants
Tightness pore for firmer-looking skin
Gives younger-looking skin that lasts up to 8 hours
Provides intense moisturization
How To Apply It?
Take a little serum on your fingertips and apply well on cleansed face and neck, twice daily (morning and night). You can apply a quality sunscreen on top of it during the day to reinforce its sun-blocking abilities.
Who Shouldn't Use It?
Despite having a highly effective formulation that's capable of producing visible results almost immediately, the effects may not last beyond 8 hours, and it may not boost collagen production. In that sense, it may not be very suitable for users explicitly looking for long-lasting results and collagen enhancement.
One important thing to keep in mind is that the formula is meant for adult or matured skin only, so keep it out of reach of children. We'd also suggest doing a patch test for 24 hours to see if the skin reacts with any inflammation or rashes.
What Goes Into Its Making?
Honestly, we weren't sure what to excerpt from an anti-aging solution that claims to remove wrinkles with only two ingredients. However, a closer look at the ingredients relieved us of any skepticism.
First and foremost, it contains Argireline (9), a peptide fragment of SNAP-25, which is found in botox. It targets relaxing the facial muscles that cause the formation of lines and wrinkles. Additionally, it employs a fast and effective mechanism to shrink the enlarged pores on your face. As a result, you can visibly see the lines disappearing, and the skin remains wrinkle-free for up to 8 hours.
Apart from that, it has the familiar hyaluronic acid (10), which is a naturally-occurring skin compound that accounts for plump and hydrated skin. Its built-in moisturizing properties keep your skin from drying up, which is another way to prevent lines' appearance. The presence of Argireline further enhances these effects to leave you with flawless-looking skin that lasts for hours.
We should also mention that the formulation is free from secondary chemicals, additives, parabens, or any artificial fillers.
Frequently Asked Questions
We understand that picking the best anti-wrinkle cream can be a daunting task, both for first-time users and existing users looking for a change. With so many active ingredients and different formulations out there, you will eventually require more knowledge than knowing about just the best brands and creams.
That's why we have put together this section comprising some of the common questions that should be factored in before making the purchase.
1. What Are The Main Ingredients That You Should Look For?
No points for guessing here that the active ingredients should be the ones that will help with reducing wrinkles and fine lines. For instance, peptides are one of the most effective compounds for reducing wrinkles or fine lines. So, you should ideally go for one that has at least one dedicated anti-wrinkle compound.
Moreover, ingredients like hyaluronic acid, shea butter, glycerin, and gelatin can aid in moisturization to prevent dryness. And moisturized skin can keep lines and wrinkles at bay.
2. Can Collagen Production Remove Wrinkles?
There have been some studies (11), which suggest that increased collagen production can counter wrinkle formation. Hence, opting for creams or serums that stimulate collagen can be helpful in this regard.
However, you should remember that uncontrolled collagen production can make your skin look saggy and even more "crumbled." Other supporting ingredients should strike the right balance between collagen and elastin production.
One such example is the XYZ Smart Collagen wrinkle cream, which checks the formation of low-grade collagen. At the same time, it contributes to the firmness and elasticity of the skin.
3. Should You Choose Separate Creams For Oily And Dry Skin?
Not all anti-aging products are made to suit oily and dry skin, which is why you should always go through the product description carefully to ensure it's a match for your skin type. That being said, some ingredients, like hyaluronic acid, are known to provide the right amount of hydration without producing excessive oils.
4. Which Creams Are Best For Combination Skin?
The best wrinkle creams for combination skin are the ones that contain acids, like alpha hydroxy acids (glycolic or lactic acid) or salicylic acid. These ingredients help exfoliate the skin and get rid of clogged pores while reducing the appearance of wrinkles and uneven patches.
But if you're looking to go for an oil-based product, then we'd recommend sunflower, argon, or hazelnut oil, which adds moisture to the skin without clogging the pores. Rosehip oil is another beneficial ingredient that can help deal with itchy skin, dark spots, acne scars, and wrinkles.
Irrespective of your skin type, you should always try to avoid creams made of sulfate and alcohol. Such ingredients can make your skin extremely dry, especially around the nose, eyes, and mouth.
5. How To Choose The Best Wrinkle Cream For Forehead?
You usually don't get anti-wrinkle creams formulated for specific parts of the face (except the under-eyes). In that sense, you can choose any wrinkle cream that addresses the issues you're facing (like dark spots, uneven skin tone, etc.).
But if you're bothered by the increased number of lines or wrinkles on your forehead, then we'd advise picking from the best wrinkle creams for frown lines.
6. When Should You Include Wrinkle Creams In Your Skin Care Routine?
Ideally, you should start using anti-wrinkle creams in your 20s to keep the skin healthy, moisturized, and visually young. However, the best way to minimize the formation of wrinkles and protect it from damage is to use sunscreen daily from a young age.
7. Can Men Use Anti-Aging Creams?
Since men's skin also ages with time, they can use anti-wrinkle creams to keep their skin free from lines and wrinkles. Moreover, they may be more susceptible to redness and inflammation due to prolonged shaving and exposure to outdoor conditions without proper skin protection.
Compounds like peptides, vitamin K, and CoQ10 can be equally beneficial for minimizing signs of aging in both men and women. However, some ingredients, such as fish oil, ginkgo, lyceum, etc., are more helpful for men than women. So, if you're on the hunt for men's anti-aging products, then consider getting these ingredients.
8. How To Apply Wrinkle Creams?
We have observed during our research that most creams need to be applied on clean, dry skin in a gentle motion unless the skin fully absorbs it. But the frequency of application will vary from one product to another.
While some creams should be applied twice a day (day and night), others may be only suitable for your daytime or nighttime routine.
Another factor in is if the creams can be paired with other skincare products. For instance, some anti-aging solutions shouldn't be followed up with active compounds like vitamin c or retinol. That's why it's important to go through the product description to check the compatibility of the said product with other ingredients.
9. Can Your Skin Develop Side Effects From Using Wrinkle Creams?
As long as you use the right ingredients, you won't have to worry about side effects. But if you aren't sure about how your skin may react to some of them, it's always a good idea to do a patch test.
Just take a small amount of the cream or serum and apply it to clean skin (preferably under the jaws or on the edge of the cheeks). Leave it for 24 hours to see if you get any rashes, redness, or experience inflammation or itchiness. If not, then the product is safe for your skin.
Verdict
That has brought us to the end of today's guide.
While you take some more time to grasp the details better, let us name our favorites from the list. We'd pick the XYZ Smart Collagen is our top choice due to its wrinkle-reducing and skin firming abilities. Not only that, but it also hydrates the skin and lightens spots.
On the other hand, we'd say that the Skinception Kollagen Intensive lotion is the best wrinkle cream for dry skin, as its hyaluronic acid content helps with moisturization. But no matter which option you go with, do a patch test and consult a dermatologist if possible, especially if you're a first-time user or have existing skin problems.
References:
(1)- Bulbine Natalensis and Bulbine Frutescens promote cutaneous wound healing – ScienceDirect
(2)- Ketosis and Skin: Why Fibroblasts Increase Collagen Production – Bozmd.com
(3)- SYN-Coll: Power Anti-aging with a Collagen-boosting Peptide | Cosmetics & Toiletries (cosmeticsandtoiletries.com)
(4)- What Is Palmitoyl Oligopeptide? (oureverydaylife.com)
(5)- Collagen Peptides Benefits: Skin Care Benefits and Side Effects (dermcollective.com)
(6)- Niacinamide (Vitamin B3) for Skin: The Complete Guide (byrdie.com)
(7)- Matrixyl for anti-aging; Matrixyl benefits and side effects (bestantiaging.org)
(8)- Phytoceramides Benefits and Side Effects Compared [W/ Q&As] (horizonclinics.org)
(9)- Argireline for Skin: What Argireline Do and How It Works (dermspotlight.com)
(10)- 7 Surprising Benefits of Hyaluronic Acid (healthline.com)
(11)- What Are the Benefits of Collagen for Wrinkles? (with pictures) (wise-geek.com)