Watching your youthfulness fade away and gradually saying goodbye to that alluring glow can be a little disheartening.
Interestingly, your eyes are the first facial feature showing signs of aging. Fine lines, dark circles, puffy eyes, crow's feet are a few menaces of the early thirties that can have anyone feeling blue about their growing age.
But it's not as morbid as it sounds; you can actually delay the occurrence of wrinkles and take away some years from your eyes with proper skincare. Obviously, your eating and sleeping habits matter just as much. That, coupled with the use of right eye care products, can work wonders.
We have put together a simple review-based guide to help you pick the best eye care product for yourself. Do you want some details?
Jump right in!
Best Eye Care Products
You'll be amazed how many decades Eyelasticity™ Age-Defying Eye Therapy can take off your appearance... But that's exactly what it does, because Eyelasticity™ is formulated with a series of patented peptides that tighten and restore youth to this tell-tale area.
Overview
Eyelasticity is famously known as an "age-defying eye therapy" and is brought to the market by Skinception, a pioneering name in the skincare industry. The brand promises to fight signs of aging within four weeks. Let's get to know more about its qualities and composition in the coming sections.
Ingredients
Eyelasticity is made using potent and clean ingredients that are rigorously tested in third-party labs. Some of them are:
A. Regu®-age
This ingredient is known to reduce clotting in the blood by improving the overall oxygenation near your eyes. Mature skin starts losing out on collagen and experiences increased free radical damage.
Therefore, the presence of Regu®-age in eye creams helps protect and rebuild collagen. It also tones down free radical damage to some extent, but its specialty is dark circle reduction. Clinical studies show that it reduces dark circles by up to 35%. [1]
B. Syn®-ake
Moving ahead, Syn®-ake is a peculiar ingredient that imitates the muscle-setting activity of a Temple Viper snake (though it has nothing to do with a snake). It is considered to be a natural alternative to Botox by some experts. [2]
C. ProCollONe+
This one has fast become a benchmark ingredient in eye creams for collagen synthesis. Several users have reported a significant improvement in their skin texture after they used eye creams having ProCollONe+.
Some other noteworthy ingredients are:
Eyeseryl
Symglucan
Hydrolite
Aloe barbadensis (aloe vera) leaf juice
Vitus vinifera (grape) seed oil
Caprylic Capric Triglycerides
Cyclopentasiloxane
Is It Any Good?
Whether it's crow's feet or laugh lines, Eyelasticity is known to treat the major aging signs that pop around the eyes. Ingredients like aloe vera leaf juice and grape seed oil contain natural polysaccharides that hydrate the eyes, particularly the under-eye area, and initiate skin repair.
Furthermore, Cyclopentasiloxane treats fine lines by creating a plumping effect on the skin near the eyes [3]. Overall, Eyelasticity cream has an effective combination of ingredients and treats major signs of aging. It reduces puffiness and dark circles in the under-eye area, tightens sagging skin, and boosts collagen production.
---
Overview
Do you have droopy eyes that make you look sleep-deprived all the time? Well, then we might have a product that'll liven up your tired eyes instantly. Eye Secret Eyelids transparent lifting strips can be easily applied on the eyes to reveal your upper eyelids more and support the drooping skin.
Ingredients
These strips are simply made of thin and transparent plastic coated with several brightening vitamins and essential oils.
Is It Any Good?
While using eye creams is a permanent solution, it also takes a lot of time to get actual results. On the other hand, eye strips solve the problem instantly; however, the results are short-lived. Still, if you are looking for a quick fixer-upper before a big event, the Eye Secret Eyelids Lift is your best bet.
For starters, these strips are practical to use and give you the desired look without going through the trouble of getting surgery. They are made of thin and transparent plastic, so you need not worry about people spotting them. Since the strips are ultra-light, they won't irritate your eyes or make you feel weary.
What's more, they are the most convenient and safest way to increase your youthfulness. Simply put them on, conceal them using makeup if you feel like it, and you're good to go.
---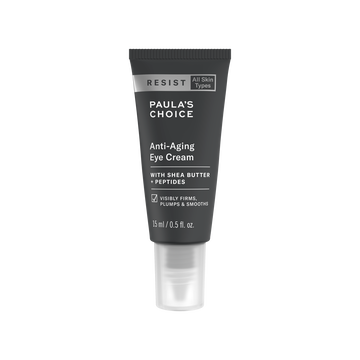 Unique, long-lasting balm-like cream for brightening and overnight hydration, with results you will see and feel the next morning.
Overview
Next on the list, we have the Resist Anti-Aging Eye Cream by another exemplary brand, Paula's Choice. Perfect for thin skin and darker skin tone, this one guarantees small results from the very next day you start using it. Not only does it stimulate collagen production, but it also treats dry skin quite effectively.
Ingredients
Paula's choice is known for its quality ingredients that are peer-reviewed and free of harmful fillers.
A. Shea Butter
Shea butter is a natural fat extracted from the fruits of Vitellaria paradoxa, the African Shea tree. It protects the eyes from the aging effect of harmful UV rays, owing to its excellent sun screening properties. In addition to that, it acts as a skin moisturizer and emollient, so those who deal with dry skin around the eyes can reap dual benefits from this eye cream. [4]
B. Licorice Root Extract
Moving ahead, the cream contains licorice root extracts, an ingredient that is celebrated in Japan for its health benefits and medicinal qualities. To begin with, it calms inflammation and reduces free radical damage that is caused by overeating junk or spicy food.
Next, it can smooth fine lines and reduce puffiness in the under-eye area because of its ability to retain skin-plumping hyaluronic acid. The extract is also suitable for people with delicate skin because of its soothing and gentle formula. [5]
C. Arctostaphylos uva-ursi (Bearberry) Leaf Extract
Inflammation and skin irritation often accelerate the aging of the skin. That's why you'd be glad to know that the Resist Anti-Aging Eye Cream contains bearberry leaf extracts. This element reduces fine lines and wrinkles by nourishing irritated and aging skin. [6]
Some other important ingredients are:
Dimethicone for hydration
Hydrogenated Polyisobutene for enhancing the texture
Ascorbyl Glucoside (a vitamin C antioxidant)
Hydrogenated Lecithin for skin-restoration
Allantoin to treat thin skin
Salix alba bark extract to brighten up tired eyes
Brightening vitamin, vitamin E
Is It Any Good?
Paula's Choice Resist Anti-Aging Eye Cream is a balm-like eye gel that lasts all night long on the skin. This bright eye crème is a top choice among people for overnight hydration and reducing under-eye circles.
Did you know that bad sleeping habits can constrict blood vessels surrounding the eyes? This eye gel functions as a vasodilator and broadens the shrunk blood vessels, thereby making the skin brighter and enlivening tired-looking eyes.
What's more, the rich formula is loaded with plant-based ingredients and has been among the top choices for quite a while. It deals with several signs of eye aging like crow's feet, fine lines, dark circles, while taking special care of delicate skin, and darker skin tones.
---
Overview
Moving forward, we have another product that can give you an eye lift on the spot, called the Eye Secrets 1 Minute Left. Sounds too good to be true, right?
We can totally understand your skepticism, but the brand has solid evidence to stand its ground. You can even see Michelle Collins vouching for this eye gel on YouTube; the link is on the official website of its parent brand Bauer.
Ingredients
Let's begin by talking about the primary ingredients and get to know their respective benefits.
A. Collagen
You must be familiar with collagen, as we've been talking about it for a while now. It plays a crucial role in keeping the skin young and serves as a bonding element between the different layers of the skin.
However, its production reduces in the body after a certain age and leads to sagging skin and wrinkles. Eye Secrets 1 Minute Left instantly boost collagen production around your eyes when you put it on. Hence, you can see visible results in your upper eyelids within a minute with some improvement in skin elasticity. [7]
B. Vitamin C
It's not possible to talk about anti-aging eye creams without emphasizing the importance of vitamin C. It is an essential antioxidant to counteract the harmful effects of free radicals in the skin.
Furthermore, it allows the collagen to cross the skin barrier and reach the outer layers easily. The compound is especially helpful for oily and sensitive skin types. [8]
C. Pentapeptide-3
Lastly, pentapeptide-3 is best for sensitive skin, as it thickens the epidermis and regenerates its upper layers. [9]
Is It Any Good?
Many users have compared the quick and transformative results of Eye Secrets 1 Minute Left with botox injections minus the pain and high cost. And we do agree with this statement to a certain extent as the eye cream gives the skin an instant lift.
For starters, it has pore tightening qualities to minimize the pore size and keep your eyes radiant all day long. Since it has a long-lasting, rich formula, you won't need to re-apply it every hour; you can simply put it on in the morning and be carefree for the rest of the day.
Additionally, it is one of the best eye creams ever made for darker skin tones. We believe that all skin colors are beautiful in their own way, but still, if you've been insecure about yours, Eye Secrets 1 Minute Left will surely help you. Plus, it has traces of hyaluronic acid to keep the skin moisturized and protected.
---
24K gold, plumping collagen, hydrating hyaluronic acid, refreshing vitamin c serum, anti aging seaweed polysaccharides, brightening liquorice extract, moisturising oat peptide and calming rose essential oil. Free from parabens and alcohol. Stimulates and regenerates skin cells, and dramatically...
Overview
We've finally reached the last product of our guide, without which this list wouldn't be truly complete. The 24K Gold Eye Mask by Dermora is all about treating nasty dark circles with luxurious skincare feels. These pads revitalize the under-eye area and help you look more lively and fresh overall. After all, eyes are the mirror of the soul, don't you agree?
Ingredient
As the name suggests, these pads are created using several premium ingredients like:
A. Tea Tree Extract
It's a known fact that tea tree extract helps in healing wounds and acne scars. When used in the area around the eyes, it helps in repairing and rejuvenating damaged and wrinkle-prone thin skin. [10]
B. Castor Oil
Castor oil is all about locking in that moisture; that's why it is an integral component of these eye pads. The primary aim of this product is to fight eye aging, especially for the dry skin type, and castor oil does exactly that. [11]
Along with that, the product also contains:
Hyaluronic acid
Collagen
Glycerine
24K gold
Chondrus crispus powder
Xanthan gum
Is It Any Good?
Any board-certified dermatologist would tell you that dehydrated skin has expanded pores and a deficiency of collagen, which results in dark circles, puffy eyes, fine lines, and numerous other aging problems. The 24K gold eye masks have the goodness of hydrating elements like hyaluronic acid and glycerine to restore the water balance and reverse these effects.
Moreover, these eye pads are good for revitalizing and rejuvenating your under-eye skin and can be used for recreational purposes as well. We suggest trying them, especially after having a long and tiring day.
---
Buyer's Guide
Now that we talked about the top picks of the market, are you ready to go ahead and buy an eye care product for yourself?
We understand that simply knowing about the best products is not enough. You need to have more field-specific information to make a smart purchase. That's why we have compiled a brief buyer's guide containing all the parameters worth noting before shopping.
1. Ingredients
Ingredients are the most important thing to consider while buying an eye care product. Some brands use cheap fillers like parabens and sulfates for cutting costs and selling their creams for cheap on the market.
So, we suggest you be mindful and not fall for such products. Instead, check the ingredient list of the cream as a rule of thumb. Remember that ingredients like collagen boosters, hyaluronic acid, vitamin C, aloe vera extracts, castor oil, and glycerine effectively stop skin aging.
2. Brand Identity
When it comes to cosmetics and skincare, brand identity is immensely important. You need to take into account the legality of the procedure practiced by the brand. It's best to buy products from companies that support veganism and cruelty-free testing and production.
Also, check whether the ingredients are peer-reviewed and properly tested in concerned labs. A lot of brands are not that transparent about their ingredients and cover them under the label of "proprietary blend."
Similarly, some are not upfront about their refund and privacy policies. We urge you to consider all these things before shopping from a brand. It's for the best to buy products from companies that are open about their policies.
3. Your Skin Type
Another crucial aspect worth considering before buying an eye care product is your skin type. Get to know your skin, study its texture, look at the problems you want to eliminate, and then pick an eye cream.
Some people have oily skin, while others face severe dryness, and not just that, some people have a combination of both. Be attentive and buy products that cater to your skin's specific needs for quick and optimum results.
4. Customer Reviews And Testimonials
Customers are hands-down the best judge of any product, and that's why you should make a note to skim through testimonials before investing in an eye care product. You can look for personal experiences or feedback on the official brand website and other relevant sources. However, if you aren't much of a reader, you can refer to product reviews on YouTube.
FAQs
Q1. Should I Go For An Eye Cream, Or Should I Opt For Eye Strips?
Eye creams serve as a long-lasting solution for treating eye aging. They also deal with all significant aging issues around the eyes. But on the downside, they take their own sweet time to show results.
On the other hand, eye strips do the job in a jiffy by instantly brightening up your eyes without having to follow any elaborate skin routine. However, you should also note that these strips just support the upper eyelid and do not help with puffy eyes or dark circles.
That's why we'd recommend going for an eye cream for the long run, but if you have an important function to attend to, then an eye strip is a better option. To sum up, you'll have to decide according to your personal needs.
Q2. Do Eye Care Products Have Any Side Effects?
All products mentioned on our list aren't known to cause any major side effects. Still, if you have doubts, then you can check the ingredient list for possible allergens or discuss them with a dermatologist. That said, a few common side effects caused by eye creams from incompetent brands are:
Irritation or itchiness in the eyes, generally caused by inaccurate retinol proportions
Hyper or hypopigmentation, if the cream contains hydroquinone
Runny eyes
Burning sensation in the eyes
Q3. What Is The Suggested Age For Using Anti-Aging Eye Products?
This will sting, but the truth is that the aging process starts as soon as you reach your early 20s. Luckily, the signs don't show up for a few years, at least not until you turn 30. So, if you want to beat the time and preserve your youth for longer, we recommend using anti-aging eye products from the age of 25.
Final Thoughts
Having discussed the best eye creams and criteria to judge them, we are done with today's guide. Taking care of your eyes and saving them from aging is no easy task since it requires being consistent with your skincare routine for long periods to get satisfying results.
On top of that, you'll need to be careful about your sugar and dairy consumption every single day if you want overall glowing skin.
Furthermore, drinking more than two gallons of water every day is very important. Couple this with a good eye care cream, and you'll have the skin of your dreams sooner than expected.
Before signing off, we'd like to tell you that Eyelasticity by Skinception is currently the best eye cream on the market. It's made using several innovative and effective ingredients like Regu®-age and Syn®-ake to help you age slowly like a fine wine.
That's it for this guide. Goodbye and happy skincare!
References
[1] – https://cosmetics.specialchem.com/product/i-dsm-regu-age-pf
[2] – https://thedermreview.com/syn-ake/
[3] – https://www.healthline.com/health/cyclopentasiloxane
[4] – https://www.researchgate.net/publication/277021242_Effects_of_Topical_and_Dietary_Use_of_Shea_Butter_on_Animals
[5] – https://thejbeautycollection.com/blogs/news/5-skincare-benefits-of-licorice-root-extract-glycyrrhizinate
[6] – https://mayerlingskincare.com/2020/05/bearberry-extract-the-secret-to-brighter-younger-looking-skin/
[7] – https://www.ncbi.nlm.nih.gov/pmc/articles/PMC6835901/
[8] – https://www.webmd.com/beauty/ss/slideshow-benefits-of-vitamin-c-for-skin
[9] – https://www.healthline.com/health/peptides-for-skin
[10] – https://www.healthline.com/health/tea-tree-oil-for-skin
[11] – https://www.healthline.com/health/castor-oil-for-wrinkles#overview